Po chai pills blog
Simply for all things relating to Po Chai Pills… Articles, Photos, Videos
To see more videos check out our YouTube Channel
Made in Hong Kong: the story of Po Chai Pills, 'cure all' medicine Chinese families have relied on for over 60 years
The tiny pills that reputedly remedy everything from stomach pains to menstrual cramps have long been a staple of local medicine cabinets. Now the company is looking to attract younger consumers to keep the legacy going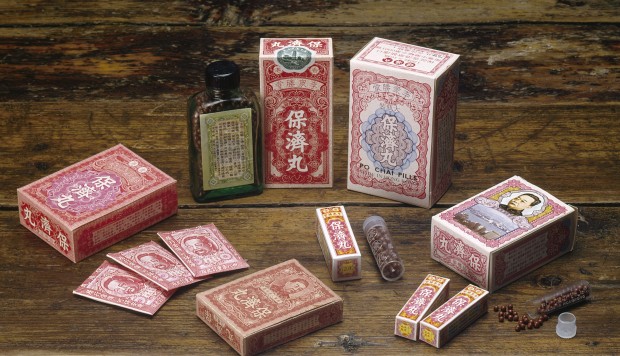 When Derek Sum Kwong-yip was a child, his family always had Po Chai Pills on hand. "Every time I complained about tummy pain, my mother would hand me a bottle," he says.
Curing more than just stomach pains, the pills were reputed to relieve menstrual cramps and even cold symptoms, living up to the meaning of their name: "cure-all pills".
Little did Sum know that, decades later, he would end up owning the company that makes the venerable Chinese medicine.
Sum is a pharmacist, trained in the Welsh city of Cardiff, and also the CEO of Jacobson Pharma, a company that makes dozens of generic drugs for Hong Kong hospitals. In 2010, Jacobson bought Li Chung Shing Tong, the manufacturer of Po Chai Pills and other herbal remedies.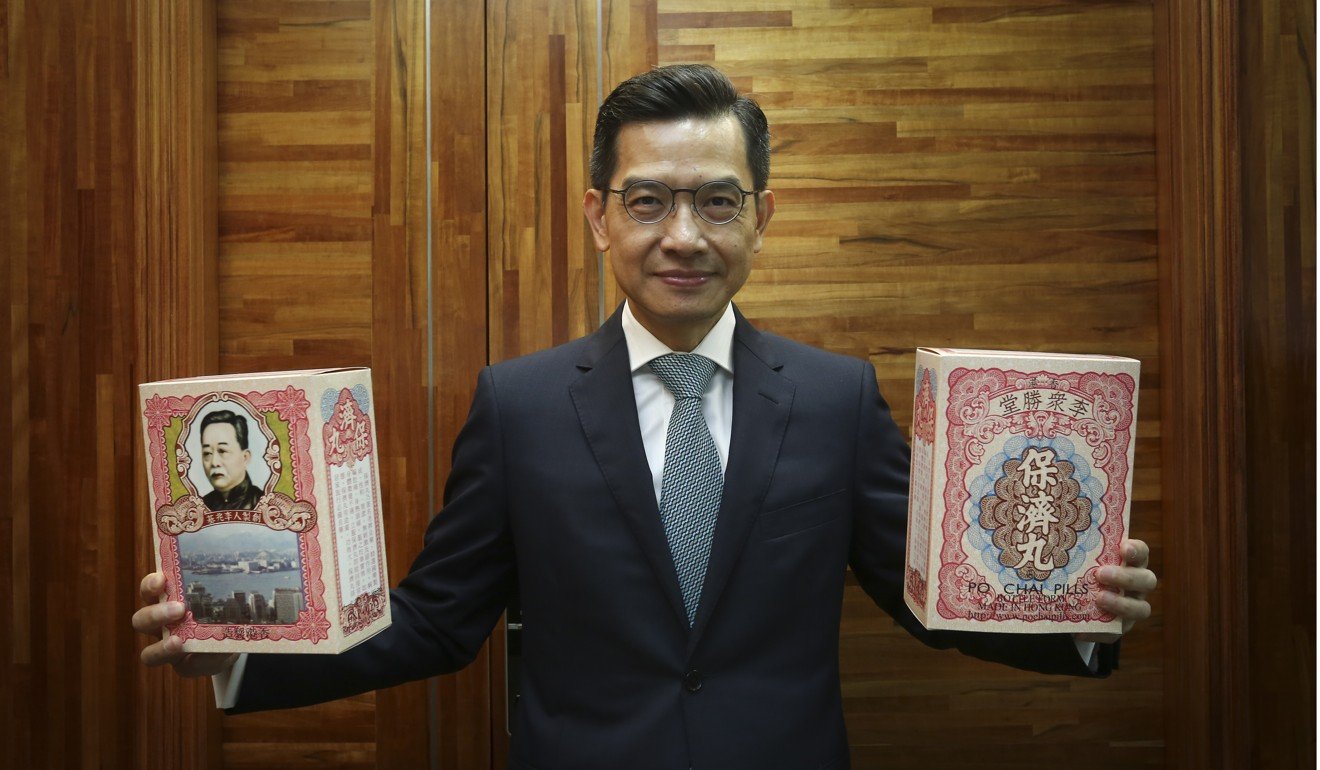 Even if you have never popped a bottle of the tiny, buckshot-shaped herbal pills, you have almost certainly seen their colourful vintage packages on chemists' shelves. The pills were developed in 1896 by entrepreneur Li Shiu-kei in the city of Foshan in Guangdong province and were manufactured there until 1949, when the Li family fled to Hong Kong following the communist revolution.
The Foshan factory was subsequently nationalised, so the family opened a new facility in North Point. By then, Po Chai Pills were already a household name in Hong Kong – and their popularity only grew with a series of animated television commercials in the 1970s and '80s.
By the time Jacobson acquired Po Chai Pills from the Li family, a survey showed that 97 per cent of consumers in Hong Kong were familiar with the brand, along with 96 per cent of consumers in Singapore and 89 per cent in Macau.
"It has become a household name that passes from one generation to the next," Sum says. "It comes with a high level of trust and confidence among end users. There is a lot of value in this brand waiting to be unlocked."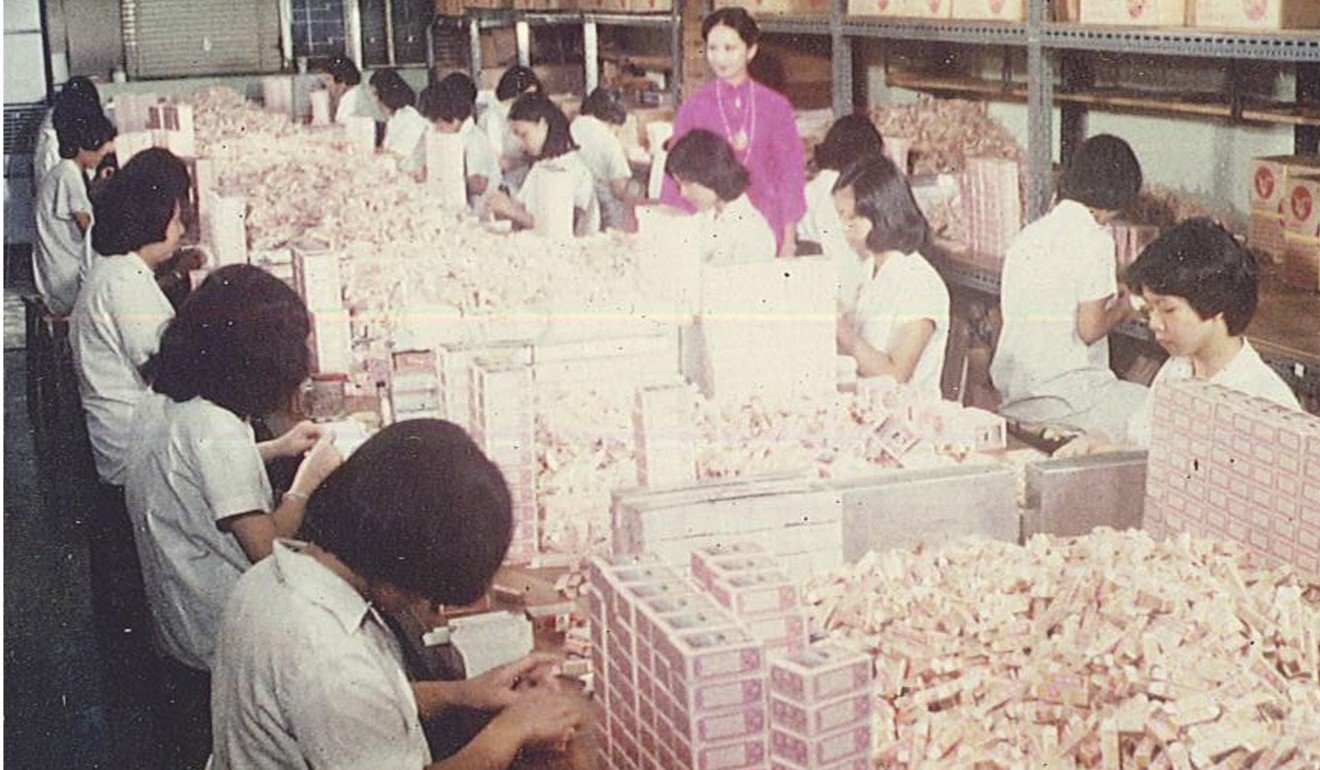 Despite their enviable position in the market, Po Chai Pills have had their ups and downs. In 2010, internal company tests revealed some pills were contaminated with chemicals that can raise blood pressure and cause cancer. The products were recalled, but Li Chung Shing Tong failed to tell the Department of Health, which led to sales of the pills being temporarily banned.
The episode made it clear that the company needed to be more stringent. "We have upgraded the standard of manufacturing as well as the stringency of quality control," Sum says. "We needed to put in quite a lot of resources to make it happen."
In 2015, the company shifted production to a new factory in Tai Po. Most of its 70 workers live near the old factory in North Point, so a shuttle service runs between the two neighbourhoods. "Every single box of Po Chai Pills all over the world comes from this factory," says Kevin Chu, the general manager of Li Chung Shing Tong. The production line operates eight hours a day, five days a week, producing 10 million boxes of pills a year.
Like Sum, Chu is a pharmacist, and his family usually had a box of Po Chai Pills on hand for stomach troubles. After graduating from the Chinese University of Hong Kong pharmacy programme in the 1990s, he began working in local hospitals, but became unsatisfied with the approach to health issues. "I knew how Western medicine works and I knew its limitations," he says. "It doesn't offer a cure for diseases, it offers alleviation. I thought, 'What should medicine do?'"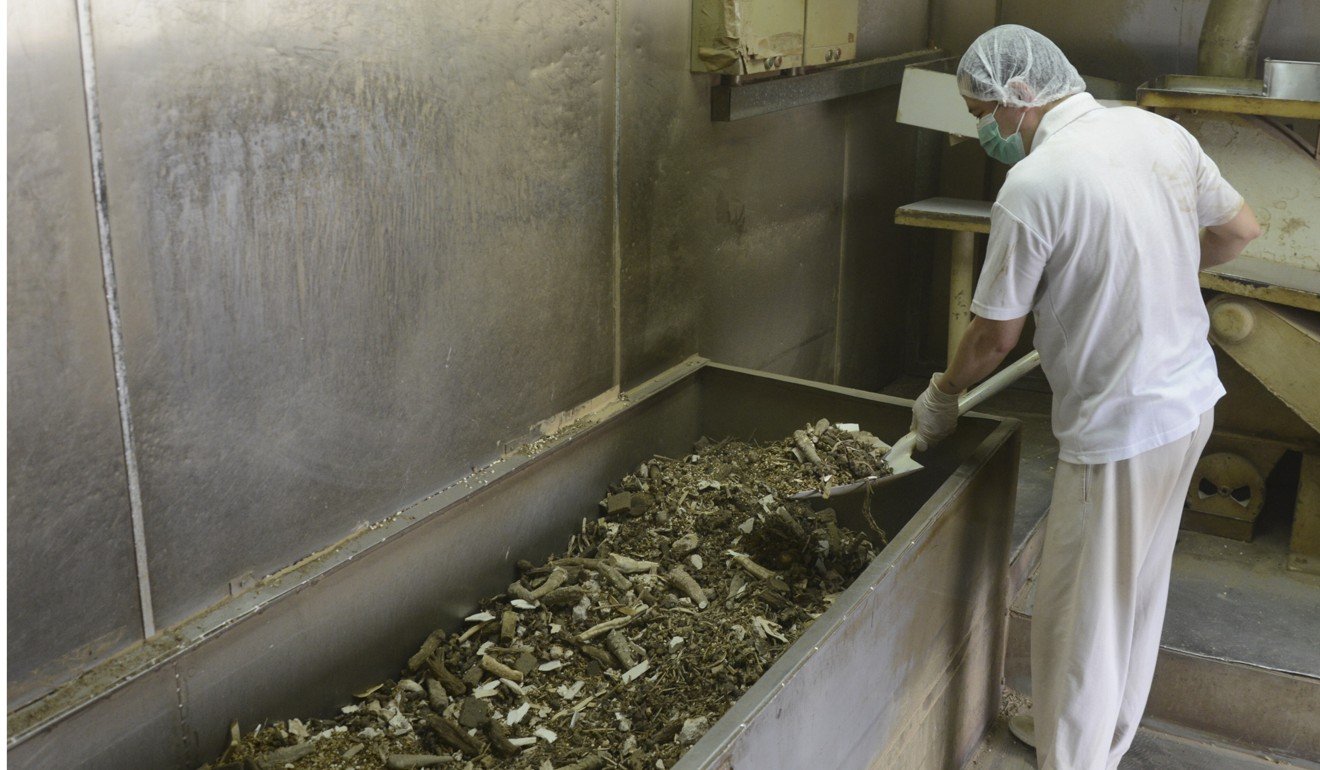 Chu decided to return to school, this time to study traditional Chinese medicine (TCM), which is known for a more holistic approach to health problems. "It was a strange move at the time," he says. Though it has been practised for thousands of years, TCM has only recently received interest from the global scientific community. "One of my aspirations was to modernise it," Chu says. "Western medicine has to go through rigorous research and control measures, and that was lacking in Chinese medicine at the time."
After years of research, Chu developed a drug, Oncozac, from Chinese medicinal mushrooms that strengthens the immune system and can relieve side effects caused by cancer treatment. That caught the attention of Sum, who hired Chu to revamp Po Chai Pills' manufacturing process.
It was not easy at first. "The production staff here are so proud of what they are doing," Chu says. "But they were so proud they didn't want to change."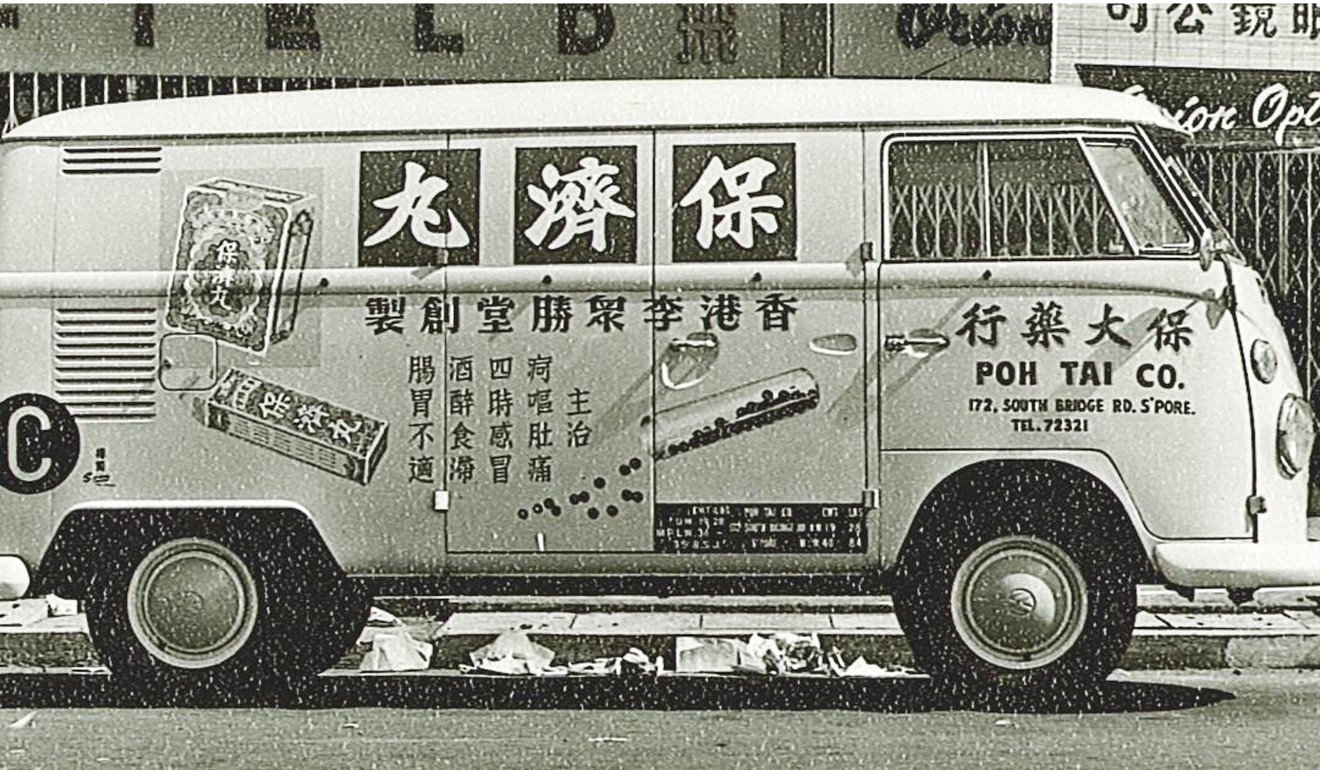 The sleek new factory helped convince them. It includes a laboratory where each of the pills' 14 herbal ingredients are tested to quantify their active ingredients. It is a lot to squeeze into the pills' small size, each measuring just four millimeters in diameter. "They dissolve in your stomach in less than 15 minutes," Chu says. "Chinese medicine normally works slowly, but Po Chai Pills work very quickly."
The manufacturing area looks as clean as you would expect from any pharmaceutical company. In a changing room, Chu covers his shoes in sterile bootees, dons a hairnet and fits a surgical mask around his face. He then walks into a room where a stainless steel machine is grinding herbs into a fine powder.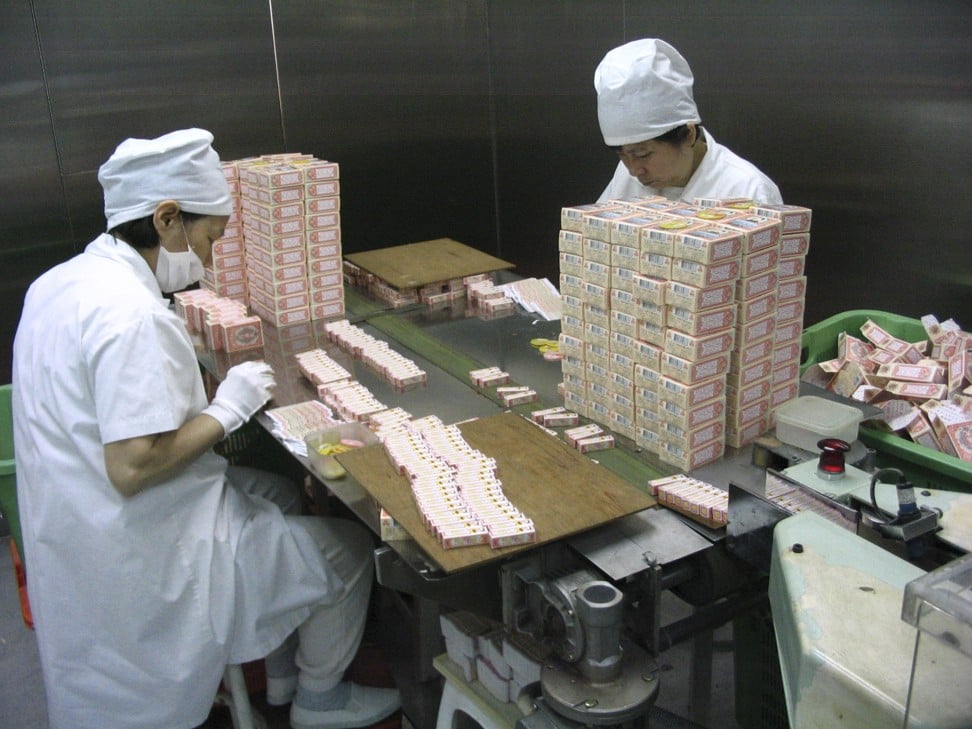 Chu cannot reveal exactly which herbs make their way into Po Chai Pills. He does say, though, that the company has been working with the same farmers on the mainland for 20 years, and none of the ingredients are particularly rare, which makes the pills affordable. Old packages of Po Chai Pills from the 1970s list a variety of ingredients common in Chinese medicine, including angelica, chrysanthemum and rose.
After the herbs are ground together, the mixture is soaked with water, which acts as a binding agent, and passed through a machine that looks like a meat grinder. Then it is extruded into long thin strands. "It's just like making spaghetti," Chu jokes. The strands are chopped into pills, put into a tumbler to round off rough edges, and then dried in ovens that are hot enough to kill bacteria but not so hot that it affects the active ingredients.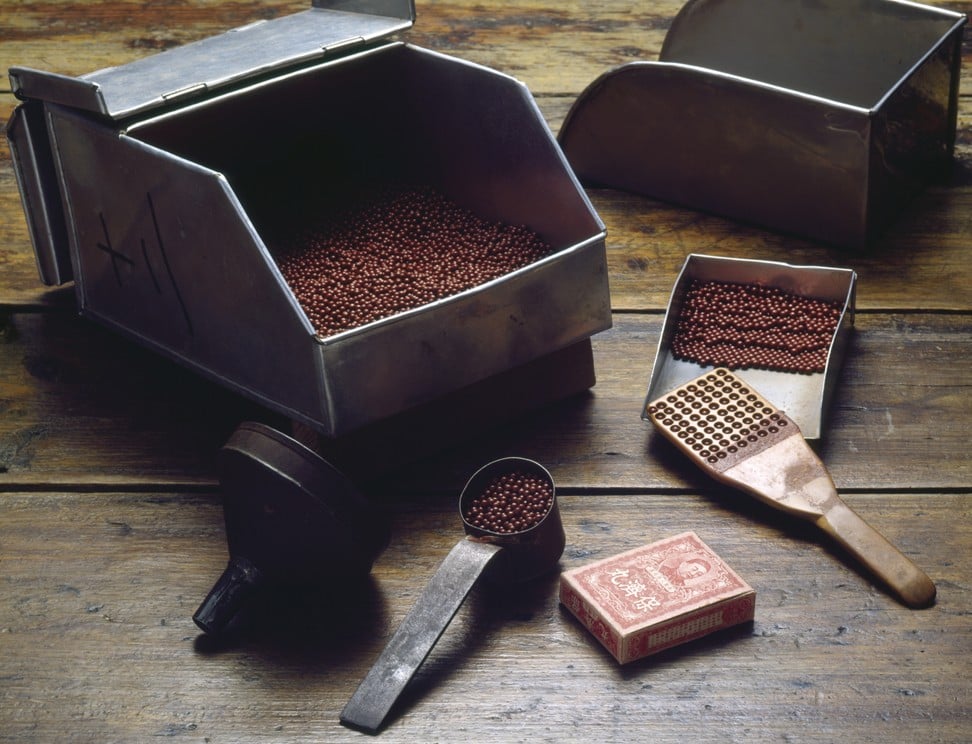 Next, the pills are coated in red food colouring to give them their distinctive ruddy sheen. This is one of the few ingredients that have been altered over the years, because the pills were previously coloured with cinnabar, which contains mercury. Today, each batch of Po Chai Pills is tested for microbial contamination, heavy metals and plasticised residue. "We test everything and we test all the time," Chu says.
Traditional ingredients, modern process – that sums up how Po Chai Pills are now made. It also reflects the way they are marketed. Though they are packaged with custom-made machines from Germany and Italy, each box of pills looks the same as it has for decades, with an intricate crest bearing the portrait of Li Shiu-kei and a 1960s-era photo of Hong Kong. "The heritage and credibility are so important," Chu says. "What changes is how we interact with the public."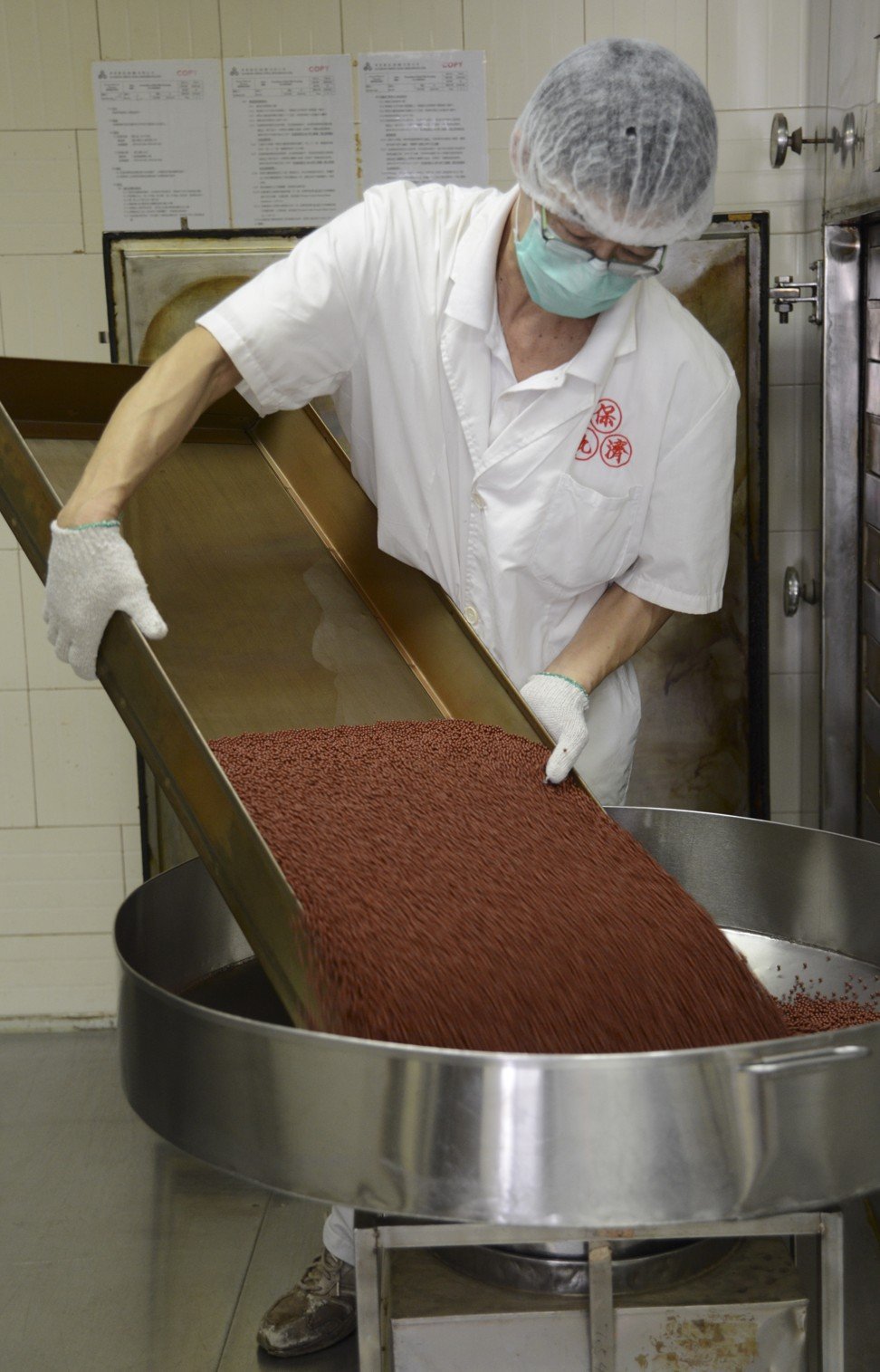 In recent years, the company has worked with pop starlet Angela Yuen Lai-lam – whose surname is a homonym for "pill" – to produce a series of Facebook ads targeting consumers in their 20s. In one video, Yuen spends the night singing karaoke before stumbling into bed drunk, at which point she is offered a glass of water and a bottle of Po Chai Pills, which are reputed to ease the pain of the morning after.
The new ad campaign is just part of a bigger strategy to expand the pills' reach. Although they have long been popular among the Chinese diaspora ("People say if there are Chinese people, there are Po Chai Pills," Chu says), the product is less well known in mainland China,where a similar brand made by the Li family's nationalised factory dominates the market.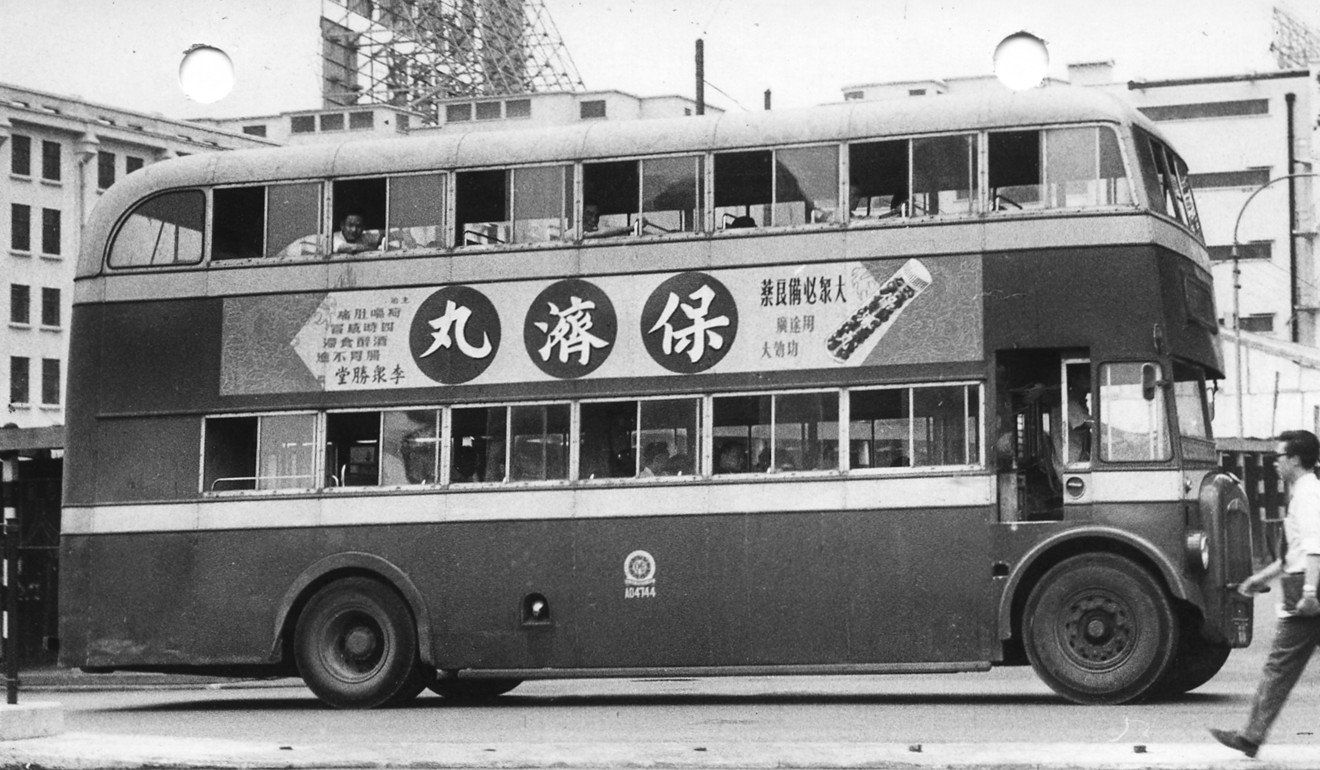 The product line will also be expanded, with a new range of Po Chai Pills spin-offs – all related to gastrointestinal problems – planned for release next year.
So far, Jacobson's strategy for Po Chai Pills seems to be working. Local sales of the product increased 22 per cent in the 2016-17 financial year, with HK$74 million of the pills were sold.
Chu says the company will continue making its products in Hong Kong. "When I joined in 2010, I felt the culture here – there's a special bond between the public and this brand," he says. "I think Hong Kong-made products give people a sense of belonging.